PASS YOUR DRIVING TEST 1st TIME!
Money back guarantee

If you're not happy with your lesson, don't pay us... Terms and Conditions apply 07752 283132
Ian Marriott Driving School is based in Langley Mill and provides driving lessons in Langley Mill, Ilkeston, Eastwood and the surrounding area. Taking your driving lessons with me will help you pass your test quickly and easily with a structured course tailored to your needs and requirements.
A bit about me (and you)
I believe in giving you the best quality, value for money, driver training there is.
That way, you learn quicker, you save money and you have fun whilst you learn.
As well as being a fully qualified Driving Standards Agency Approved Driving Instructor (DSA ADI) I also have these additional qualifications:
ADI Masterclass certificate covering coaching and planning skills for the delivery of effective driver training.
Preparing to teach in the lifelong learning sector certificate (PTLLLS)
BTEC Level 4 Professional Award in Coaching for Driver Development certificate.
Certificate for the Tri-Coaching Partnership In-Car Coaching Course
I am also a Smart Driving approved Driving Instructor Trainer which means when I'm not teaching learners I'm teaching other trainers how to give top quality driving lessons.
This means I can tailor lessons to suit you and your learning style.
Do you like to have things explained to you? Do you prefer to watch how things are done or do you like to figure things out by simply having a go? It is my job as your trainer to help you answer this question and to help you learn in a way that feels natural to you.
You already have a lot of skills needed to drive a car safely, although you may not realise this yet. Often it is only our thoughts and feelings about driving that get in the way and I'll show you ways of overcoming this and unlocking your potential. I believe you can do this and soon, so will you too.
I will help you to become a safe, responsible and efficient driver in as short a time as possible. You will find your time with me to be challenging yet supportive, moving along at a pace that you feel happy with.
Choose Ian Marriott Driving School for your driving lessons
and get all this...
Dedicated one-to-one tuition.
Your choice of lesson length: 1 hour, 1½ hours or 2 hours.
Free, flexible pick up and drop off.
Discounts for block bookings.
Free course handouts - learn faster by learning between lessons.
Dual controlled, air conditioned car for your comfort and safety.
Help and advice with your theory test.
You can also benefit from...
Pass Plus courses to further improve your skills after you pass and reduce your insurance costs.
Motorway lessons for maximum safety and confidence.
Gift vouchers - the ideal Christmas or birthday present for those hard to buy for teenagers!.
Call OR Text 077522 83132 now for further details.
Pass your test with Ian Marriott
When you choose Ian Marriott Driving School you'll not only be well on the road to passing your test, but you'll become a confident, responsible and economic driver, saving you £££s over the course of your driving career.
We take you further, to new and different places, gaining as much experience as possible before you take your test. When test day comes around you'll be ready for anything and confident that you have all the necessary skills and experience.

"First time pass with no faults"
Craig Chaplin, Kimberley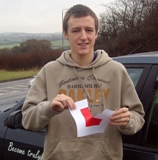 "Don't think I would have passed first time without him"
Andrew Sibley, Langley Mill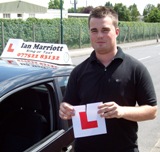 " You have been fantastic!!! "
Danny Taylor, Langley Mill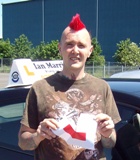 "An all round star"
Adam Jones Langley Mill
What type of driving lessons do you need?

Ian Marriott Driving School goes further and puts you first -
call or Text now on 07752 283132 for our latest offers and start on the road to success.